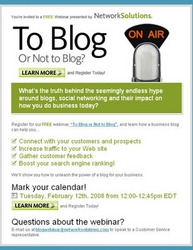 Herndon, VA (PRWEB) February 8, 2008
When it comes to running a successful business one of the most important elements for small business owners to maintain is contact with their customers. The daily responsibilities a business demands can make this component a difficult one to sustain, but with the right tools, small business owners can connect with their customers while continuing to juggle the many tasks on their plates. In an effort to help small business owners stay in touch with their customers and increase business, Network Solutions will host a free webinar, "To Blog or Not to Blog," on Tuesday February 12th at 12:00pm EST. The webinar will be introduced by Kerstin Demko and presented by Jason Shawn, Manager of Web Presence.
"Blogging is becoming more and more prominent among small businesses," explains Michele Krisanda, Senior Vice President of Marketing. "Network Solutions wants to educate small business owners with the most useful and successful ways to create a blog and integrate a blog into their own Web site, which will help drive traffic, and thereby increase sales."
Last May, Network Solutions hosted this webinar for the first time for existing customers. As a result of overwhelming positive feedback and their continuing commitment to their customers, Network Solutions is now offering this webinar explaining the benefits of blogging. "To Blog or Not to Blog" will highlight topics such as what is a blog, how they are being used, and will offer tips on how to create a blog and effectively integrate it into a small business Web site. Business owners will learn how a business blog can help them connect with customers and prospects, increase Web site traffic, generate and gather customer feedback, and boost search engine ranking. Following the webinar there will be a Q&A session and a recording of the webinar and a transcript of the Q&A session will be available online.
Register for this free webinar to learn more about what it takes to create a blog and how to make it work for your business.
Currently, Network Solutions includes WordPress blogs in all of its Unix-based Web hosting packages. To learn more about Network Solutions and how its hosting solutions that include free business blogs can boost SEO performance and customer interactions, please visit NetworkSolutions.com.
About Network Solutions

A leading provider of online solutions for small businesses, Network Solutions offers an exhaustive line of products, including E-commerce software, web design, online marketing, domain registration, and other Internet services. With over 28 years in the web services industry, Network Solutions is committed to helping businesses succeed with affordable and simple one-stop shopping solutions.
###
Related WordPress Press Releases