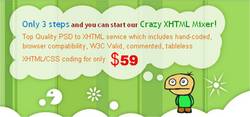 Uzbecka, Czech Republic (Vocus) August 18, 2010
Promising top quality and low priced services, CrazyXHTML.com offers affordable web design solutions that combine creativity with short delivery times. PSD to HTML and other format conversions are achieved in a timely manner that speaks quality and dedication for a top notch end result. Projects are always completed in the required timeframe, the companys staff promising a 24h deadline regardless of the tasks difficulty. The special design techniques that use a minimum number of CSS styles and XHTML tags facilitate a fast loading time for low-speed connections.
Table-less HTML is great for people that require no standard HTML and depending on the projects size, they are qualified to receive certain discounts. Other services include Semantic Markup used for SEO, W3C Valid hand coded, XHTML 1.0 and CSS markup and a lot more and they are compatible with all versions of IE, Firefox, Opera, Safari, Google Chrome and SeaMonkey, rendering them very flexible.
A 24h free customer support service ensures proper communication for 100% customer satisfaction guaranteed. Interested clientele can also take advantage of the PSD to XHTML or other format discounts up to 25% depending on the coding type, page number and the desired deadline. Thus, discounts are of 5% per extra day and go up to 5 days for a total of 25%.
In a recent interview, CrazyXHTML founder, mentioned: We offer a money back guarantee on all of our services to maintain a healthy and professional relationship with our clients, whom can choose to pay for the project before or after completion.
With a high range of professional services added to its portfolio, the companys team of experts brings precision to customers projects assuring they are falling between the quality standards demanded by their clients. Customer support is ready to address any type of questions, either by phone, chat or E-mail.
About CrazyXHTML.com

CrazyXhtml.com is a web design company based in Prague consisting of highly trained specialists that offer state-of-the-art web design services at competitive prices. With integrated 24/7 free customer support and hundreds of successfully completed projects, the company is crafting a well deserved positive reputation.
Contact Details:

Viktor Solovey

Uzbecka 6, Prague 10, 10100

Czech Republic

+420 775263685

Website:- http://www.crazyxhtml.com/
###
More PSD Press Releases