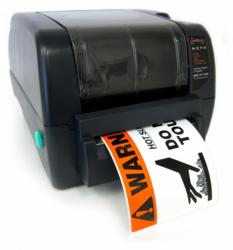 Lake Oswego, OR (PRWEB) August 21, 2012
Label printing and label makers are gaining more popularity in the industrial market. The LabelTac label maker is one line that Creative Safety Supply offers for either a quiet office type building or an extreme factory environment. The label makers create affordable in house labels to comply with OSHA, NFPA and ANSI compliance regulations. The labels are produced to resist chemical, water, and UV environments and can be used indoor or outdoor. Not only is the label printer affordable and perfect for lean and safety facility programs but it also connects to any PC. Any industrial market running a 5S, lean and safety program should highly consider this product. Either renting or purchasing one of these label makers is the new way of creating in house labels.
Creative Safety Supply now offers the LabelTac 4 PRO printer that comes with a standard 2 year limited warranty. It comes with useful templates and symbols that allow for quick and easy printing start up. It also comes with the popular and easy to use Bartender label creation software. This is a great feature for facilities that may not have a word-processing program. No more having to wait, or pay for shipping fees as you can print labels in house easily and quickly. As one consumer reported, I have saved more time and money by printing my own labels in house.
Along with the label printers, Creative Safety Supply also offers no cost, hassle free customer support for life. The knowledgeable support representatives are always ready to help whether it is for technical or install support, or even help with designing a label or sign. The label makers and good customer service is what can get a company off to a great start in any market field.
To learn more about the label printers and makers for office or industrial use, please visit Creative Safety Supply at http://www.creativesafetysupply.com for more detailed information.
Related Templates Press Releases