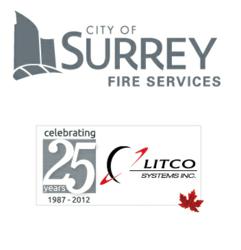 Markham, Ontario (PRWEB) May 15, 2012
Litco Systems Inc., a Canadian company and leading provider of Document Process Automation, Business Intelligence (BI) and Agile Development solutions and City of Surrey Fire Service, today announced the launch of their Fire Department Operations and Staffing Dashboard.
The Challenges
This cooperative venture was driven by City of Surrey Fire Services need for instant visibility into operations and performance data and fast report generation. As a result, City of Surrey Fire Service was looking for an efficient analysis tool and turned to Litco Systems to translate their requirements into a dashboard that focused on their key performance indicators. Recognizing there were many other fire departments facing similar challenges, a collaborative development effort was undertaken to create a dashboard of interest to a broader audience.
Litco provided the application expertise to take our key performance indicators and create an application that is not only capable of analyzing our data, but was built on a platform that displays the data in a dashboard, providing a single solution for the end users. Karen Fry, Deputy Chief, Surrey Fire Service.
The Solution
City of Surrey Fire Service provided the industry expertise while Litco Systems provided the development expertise to create the Operations and Staffing dashboard. This dashboard will enable fire departments to analyze call performance, response times, inspections and property data, personnel absences and staffing levels; while allowing Administration staff to quickly and effectively report on the key performance indicators within an organization in a real-time system. Easy to create and simple to modify, the template saves time and provides insight into an organizations data. The template will enable fire departments to meet their accountability requirements and use evidence based decision making strategies based on information collected. Data can be deployed up and down the chain of command to Operations staff who can then measure their teams performance. The graphical presentations make it easier for all levels of users to understand. Fire Departments will be able to analyze data quickly and dynamically, drilling down to focus in on specifics when required. The underlying product, QlikView, allows the dashboard to be integrated with the systems and databases in use at other fire departments. Additional dashboards can be developed to analyze other business areas as required.
QlikView looks at all your various databases simultaneously and provides you with a customized view of all your data in one application. It allows me to quickly monitor the key performance metrics on a daily basis. This is a powerful and efficient tool for any manager! Larry Thomas, Deputy Chief, Surrey Fire Service
About City of Surrey Fire Service
City of Surrey Fire Service provides fire suppression, fire prevention, medical aid, rescue services, hazardous materials response and education services to the municipalitys 472,000 inhabitants. It is the second largest fire department in British Columbia with 17 fire halls and over 400 employees. City of Surrey Fire Service also provides dispatch services for 34 other fire departments across British Columbia. As one of the quickest growing municipalities in Canada, City of Surrey Fire Service is a modern, progressive fire service that is led by evidence-based decision-making.
About Litco Systems Inc.
Litco Systems Inc. is a Canadian company and a leading provider of Document Process Automation, Business Intelligence (BI) and Agile Development products. Litco delivers solutions that automate manual processes, improve the flow and access of information, provide insight into data from disparate systems and allow rapid building and management of business applications. Litco Systems philosophy is to provide superior products that integrate with existing systems, implement quickly with the least disruption, and offer fast ROI. Litco Systems Inc., founded in 1987, is a premier business partner of Bottomline Technologies Inc., Business Geographic, Mendix and QlikTech Inc. and has offices in Montreal, Toronto and Vancouver.
For more information about the Operations and Staffing Dashboard, please contact Lisa Banducci, Business Development Manager, E-mail: lisab(at)litcosys(dot)ca, Tel: 604.942.6121. For information about other solutions offered by Litco Systems Inc., please visit http://www.litcosystems.com.
Company names, product names and company logos mentioned herein are the trademarks, or registered trademarks of their respective owners.