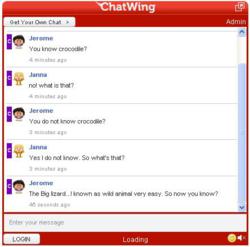 Boston, MA (PRWEB) November 27, 2012
Chatwing team is setting a new standard in creating an efficient free chat widget. The enhanced chat software has useful features that can boost ones online presence. The newest web chat tool has made more users switch to Chatwing chatbox. What attracted these web users are the full control over chat conversations and customization that Chatwing offers. Aside from the ease of access and convenience it highlights.
For only a few seconds web admins can immediately engage online visitors with sensible discussions or start a forum. Chatwing has an easy and simple installation process, anyone can do it. Chatwings research has shown that most top websites and blogs offer high level of interactivity to its site visitors. There are three Chatwing chat software styles a web owner can choose from.
For websites that emphasize forum or discussions, the regular shoutbox can simultaneously facilitate interaction among a thousand users. This form may take up a noticeable portion in the site yet it can still be adjusted to the preferred size. The pop up window chat box form is advisable for websites or blogs that maintain a minimalist theme. This style appears as button in the site, has to be clicked and can also accommodate hundreds of chatters. For initiating private chats the vanity URL is available.
Chatwing free chatbox aims to empower website and blog users when in comes to global connectivity. Chatwings useful features include social media integration and full conversation control are incorporated in the chatbox latest version.
Social media integration option makes the chat widget accessible to Facebook and Twitter users. This serves as an opportunity for forum makers and website owners to create a database out of these info- Facebook and Twitter account information. Online network expansion can be accomplished with ease. Chatwing dev team will continue to experiment and improve their free chatbox to meet the changing demands of web users.
About Chatwing.com
Chatwing.com specializes in the new field of website chat. Over years, the Chatwing team has introduced live chat widget for hundreds and thousands of blogs. The Chatwing application bridges people from many parts of the world, creating global synergy through the Internet. The shout box can be installed in just seconds, and it can be used for varying purposes such as leisure and Internet marketing. It also allows a user to customize the size, color, and name of the widget. Chatwing is 100% free for everyone.
Related Themes Press Releases