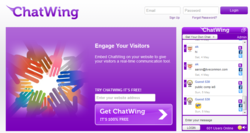 Sacramento, CA (PRWEB) May 06, 2012
Moonfruit is one of the best free website creator applications out there, based on many reviews featured all over the Internet. It is a simple website designer that has over one hundred templates to choose from. That is why Moonfruit is always chosen by people who want to set up their online shops. A great website creator can be paired with an exceptional chat box that can boost online presence. This chat application is known as Chatwing and it is gradually making a name for itself.
Chatwing is versatile in the sense that people can use it to most blogs and websites tackling various types of industries. Chatwings potential lies on information delivery and rate of messaging speed. As a bonus, Chatwing is straightforward and people can understand it easily. The shout box also has an improved Facebook integration feature. Through this, guests and visitors can log in using their Facebook accounts.
Many people have seen the potential of Chatwings latest version because it empowers the premise of website chat. Through simple clicks, Chatwing can turn an inactive blog into an active lounge where people meet and discuss tons of things. Chatwings developers have noted that people love to talk about the posts in the host blog.
Online entrepreneurs who also want to set up shop using the Moonfruit designer can rely on Chatwing chatrooms when it comes to generating visibility. The chat widget also serves as a customer service extension where visitors can post their questions, suggestions, and sentiments. This improves the relationship between the business owner and the client.
Chatwings visitors can also use cool emoticons and avatar displays to spice up the chatting experience. Through this, visitors have the tendency to stay in the blog for long periods of time. Installation of the Chatwing widget is also relatively easy. Users dont need to spend a lot of time. Aside from that, they can customize the widget according to the appearance they want.
About Chatwing.com
Chatwing.com has developed live chat software for websites and blogs. It caters to different online communities due to its high rate of connectivity. Everyone can create a customizable live chat box feature in 1 minute or less. Users have the ability to customize the size, color, and fonts of the chat product. The ability to chat via social media accounts such as Facebook and Twitter enable Chatwing to offer a personal and unique real-time experience to all sites. Chatwing is 100% free and very easy to use.