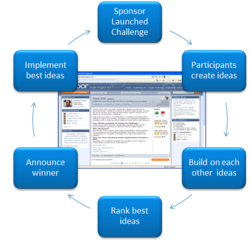 Washington, DC (PRWEB) May 31, 2012
For the wicked problem that needs an innovative solution, there is now Twoor.com on demand innovation platform to create engagement towards solving that wicked problem.
For the business leaders that need to increase revenue, open a new channel, or create a new business model, there is now a way to engage employees, customers and other partners into an Innovation Challenge. Built by experts, the platform incorporates the lessons from decades of innovation experience.
1.