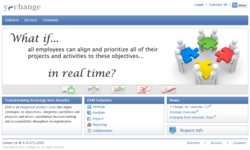 Highland, UT (PRWEB) April 30, 2012
Strategy-Keys.com, a website that provides insights and best practices in Strategy and Execution, reported today that:
"Y-Change, the leader in real-time 'Enterprise Strategy Management' (ESM) software solutions, recently announced the launch of version 7.2. This version includes key enhancements to its strategy and portfolio tracking, dashboards and timesheet features."
Y-Change provides an impressive integrated product suite that ties strategies to objectives, integrates portfolios and projects and drives coordinated decision making and accountability throughout an organization. When officers, managers, and employees are together "on the same page", they all contribute to the success of the strategic goals.
The New 7.2 Features Include:

.

Portfolio Management Enhancements