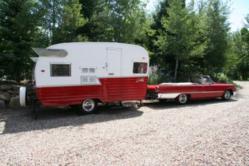 Glenwood Springs, CO (PRWEB) November 29, 2012
Recognizing the ever-growing number of vintage travel trailer enthusiasts, Vicky and Richard Nash have created a new venture called Retro Trailer Design based in Glenwood Springs, Colorado. This business will sell fully restored pre-1970 model campers and also work with clients to customize their own classic rigs.
The Retro Trailer Design showpiece is a16-foot long, red and white 1962 Shasta reminiscent of a diner, complete with a black-n-white checkerboard floor. Shasta is the Nashs favorite brand because of the iconic silver wings. When displayed at classic car shows throughout the West, this award-winning trailer is a true crowd-pleaser. The matching 1961 Ford Galaxie Sunliner convertible is attention getting as well. People just adore our Shasta and always ask if we have other trailers for sale, claims Vicky Nash, so we decided to set up shop and start selling.
Revitalizing these aluminum caravans calls for professional construction skills as well as a creative flare. When reconstructing a trailer, Richard Nash, a general contractor and luxury home builder for 35 years, utilizes his knowledge of architecture, electrical engineering, woodworking, plumbing, water systems, and metal work. Nash is a lifelong classic car buff so he also incorporates his auto mechanics expertise. The overall design theme comes from Vicky Nash who selects the color schemes and fabrics. Each trailer is unique in style, layout, and size.
Finding 50+ year old trailers is challenging in itself, as well as time consuming. The Nash network of friends spot prospective projects behind barns and along roadsides. Former hunting trailers have been purchased. Others have come from the local junk yard. Many units are in such disrepair that their owners just want someone to haul the eyesore away.
The Nashes have rescued derelict campers for over seven years. In the Retro Trailer Design workshop right now are a 1961 Shasta and a 1968 Serro Scotty Sportsman. Each will be dismantled and inspected for typical damage caused by water leaks and neglect. The most important task is to be sure the trailer is road worthy with a secure hitch and good tires. The wooden frame is repaired and new pieces replaced. Exterior aluminum is removed and used as a template to replicate the sides and rooftop. An extraordinary amount of time is devoted to polishing and cleaning. Original appliances and fixtures are reconditioned. Other pieces are reproduced so that everything is fully functional and in good working order. Some features are updated with more modern conveniences like swapping out the icebox with a refrigerator. Plumbing and electrical systems are upgraded. Cabinets are reinstalled. Gallons of shellac or paint coat the interior walls. Measurements are taken for brand new cushions and curtains. Nostalgic patterns are selected for the fabrics. Then it is time for the paint booth. Geometric designs and color combinations on the outside are preserved or recreated. Logo badges and decals are reapplied.
These mobile dwellings have many of the same components as a house, only on a smaller scale. Richard Nash says, I have built many high-end homes between Aspen and Glenwood Springs but I get more satisfaction from rebuilding these little trailers than from any of those multi-million dollar estates.
Depending upon the extent of the renovation, buyers can expect to pay between $ 10,000 and $ 20,000 to own one of these one-of-a-kind creations.
For additional details on the Nash trailer collection, read http://www.prweb.com/releases/vintage_travel_trailer/retro_trailer_design/prweb9176757.htm


About Retro Trailer Design:

Retro Trailer Design recreates vintage travel trailers reminiscent of the canned hams of the 1950s and 1960s. Richard and Vicky Nash in Glenwood Springs, Colorado specialize in customized travel trailer restoration. http://www.retrotrailerdesign.com or 970-945-1329
Media Contact:

Vicky Nash

Resort Trends, Inc.

970-948-4923

vicky (at) resorttrends (dot) com
Related Themes Press Releases