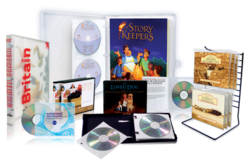 Marysville, Ohio (PRWEB) April 30, 2012
Box-set sales have continued to increase as customers increasingly prefer their collectability and functionality for storing media. Multimedia box-sets that include entertainment, software, books, and music, are increasing in shelf presence and market demand. To meet this demand and support growing business, it is crucial for disc publishers to be able to provide disc packaging that is eye-catching, customizable, durable, and functional.
For 25 years, Univenture has been a global source for custom solutions in disc packaging and multimedia box sets. Bringing together a full line of wallets, binders, and sleeves with a range of custom printing and decoration capabilities, Univenture delivers products that are more environmentally responsible, functional, and cost-effective.
Lightweight, durable, and completely customizable, Univenture's UniKeep wallets and binders provide secure, value-added packaging for audiobooks and multiple-disc sets. Made entirely from rigid, curbside-recyclable polypropylene, they are designed with integrated interlocking poly rings and are compatible with Safety-sleeve