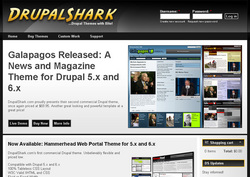 Halifax, NS (PRWEB) May 26, 2008
An estimated 250,000 businesses are using it the world over. Dries Buytaert, its founder, was recently named as a top 30-and-under innovator for 2008 by Businessweek magazine, and a massive community of contributing web developers can't say enough good things about Drupal, the robust open-source content management system. But many users are often left scratching their heads when their search for new drupal themes turns up few results.
Rob DeCoste, owner of the commercial theme producer ThemeShark.com, offers up some insight: "Until recently, Drupal had a reputation of being unfriendly toward non-programmers and difficult to theme," says Rob. "And that was probably true a few years ago. From a web design perspective, the amount of PHP coding required to get the desired effect in earlier versions could be more than a little intimidating. Unfortunately, not all programmers are skilled graphic designers, and vice versa."
That's not to say that members of the community haven't been hard at work producing a varied crop of free themes under the GPL licensing, and Drupal.org maintains a long list of useful templates. But some stand out more than others, and although developers like Roopletheme.com have done some exceptional things with Drupal's theming system, it's just not quite enough for many CMS enthusiasts. The lure of Rockettheme.com's flexibility and eye-candy is far too strong for some developers and many lean toward Joomla as a result.
"Since launching the site in April, we've heard the same thing over and over. Most people will tell you how hard it is to find great Drupal themes, and they're pleased that we're trying to fill that void," said DeCoste.
In recent years Drupal has also become one of the most popular open-source solutions for building newspaper and magazine sites. Its ability to customize and categorize content both out of the box and with the help of third-party modules is second to none, and every day more and more local and national publications get online with Drupal. One of the most famous examples is the New York Observer's website, standing as an excellent example of exactly what the system is capable of.
But new users shouldn't expect to build a site like that over night.
"For our second theme, our goal was to provide basic newspaper functionality and a quick and easy setup process for beginners. We ended up using a custom installation profile to get the job done. This way all of the modules and content types are ready to go at the end of a fresh install. There might still be a bit of a learning curve for people who haven't really dug into the Views and CCK modules, but they're worth learning. Once you've got those down you've got one powerful development tool," continued DeCoste.
Next on the agenda for ThemeShark.com?

"There's been interest in a social networking theme. I think we're going to tackle that. But if we accidentally create the next Facebook or MySpace and the billions start rolling in, well…I'm sure another commercial theme provider will come along eventually," stated DeCoste.
###