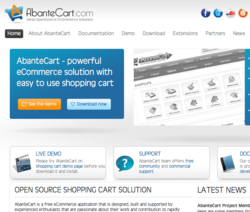 New York, NY (PRWEB) May 22, 2012
AlgoZone, Inc, has announced partnership with AbanteCart open source ecommerce project to provide commercial service with AbanteCart shopping cart application.

Part of the exclusive arrangement, is AlgoZone offering market place with extensions and templates for AbanteCart application.
Extensions are additional skins, plugins and services, to complement many standard features of AbanteCart. All extensions are delivered to AbanteCart users via convenient interface integrated right into application's control panel. AlgoZone complies with all industry and AbanteCart standards to provide high quality ecommerce designs, extensions and services with seamless installation and upgrade process.
In addition, any external developer or company can earn revenue by submitting extensions to be sold via AlgoZone eCommerce marketplace.
About AlgoZone, Inc ( http://www.algozone.com ) AlgoZone Inc. is leading provider of ecommerce solutions, including ecommerce templates, custom design, usability, development and support. AlgoZone offers large selection of pre-made ecommerce designs and modules for many shopping cart solutions. The company is based in Hackensack, NJ, USA and provide global support from multiple offices in the world.
About AbanteCart – Ideal OpenSource Ecommerce Solution (http://www.AbanteCart.com)

AbanteCart is a free eCommerce application that is designed, built and supported by experienced enthusiasts that are passionate about their work and contribution to the rapidly evolving eCommerce industry. AbanteCart is powered with a robust and expandable core platform, state of the art feature set and a high performing user interface.