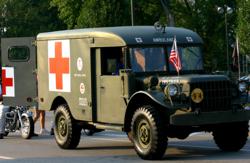 Kansas City, MO. (PRWEB) December 02, 2012
Since launching a little over a year ago the automotive website Simplyawesomecars.com has spent the majority of its time and resources giving readers news, reviews, and features about high performance sports cars and high end luxury models. When the site recently featured a story about how onboard medical facilities have improved so dramatically over the last few years in ambulances, founder of the automotive website, Danny Royal was pleasantly surprised to hear from readers that they wanted more stories about emergency vehicles.
"The story about the ambulance and the great work that the staff at the Hospital For Special Surgery do in helping youngsters with knee injuries really had an impact on the readers. After specializing on sports cars and luxury cars it makes sense to broaden the coverage of the site to include news and features about different types of cars that are still awesome," said Danny Royal.
Simply Awesome Cars now plans to incorporate a whole host of news articles and features on emergency themed vehicles, specialist cars and unusual autos on the site.
Simplyawesomecars.com is the ideal place to find all the latest news, reviews, photos, and information about cars that are just simply awesome. Whether it's a sports car, a family sedan, a vintage classic or a new car if it's awesome it will be on simplyawesomecars.com. Car you like awesome cars you'll love simplyawesomecars.com