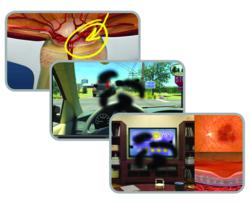 Baltimore, MD (PRWEB) June 06, 2012
Eyemaginations, Inc. recently announced a partnership to integrate its flagship product LUMA with the ManagementPlus Electronic Health Records (EHR) 5.0 software platform. As a result of this partnership, ManagementPlus Electronic Health Records (EHR) users will now be able to present patient education videos to patients directly from the ManagementPlus EHR interface.
Eyemaginations LUMA is the most innovative form of patient education and marketing software available. Featuring hundreds of 3D-animated visuals and quality animationsmany now of HD qualityLUMA allows practices to present complex information to patients in an engaging, easy-to-understand manner. The software is used by healthcare professionals to differentiate practices and drive profits.
It is our goal at Eyemaginations to provide healthcare professionals with the most effective, up-to-date tools to educate patients and increase efficiency in the practice, said Eyemaginations CEO and President, Jeff Peres. This integration with ManagementPlus makes it even easier for EHR system users to combine health records with patient education materials. Users of the ManagementPlus EHR 5.0 system can direct play, load and even search for our animations by diagnosis in one easily accessible platform.
ManagementPlus is a fully integrated Windows-based, Electronic Health Care and Practice Management solution providing systems to users for over 17 years. Specializing in ophthalmology, ManagementPlus has created an easy to use, powerful solution that simplifies the process of running a practice and increasing profitability
We are excited to partner with Eyemaginations to further improve the patients experience with ophthalmology practices nationwide, commented Christine Archibald, CEO of ManagementPlus.
About Eyemaginations

Eyemaginations, Inc. is a healthcare media company focused on solutions that support professionals, patients and corporations in communicating and understanding complex topics. The companys in-depth experience with animation, design and software has enabled Eyemaginations to create integrated systems that provide clear and concise education solutions. Eyemaginations has a portfolio of products that are focused on eyecare, ENT, audiology and facial aesthetics. Eyemaginations may be reached by phone at 1-877-321-5481, email at info(at)eyemaginations(dot)com or online at http://www.eyemaginations.com.
About ManagementPlus

ManagementPlus is a leader and pace-setter in ophthalmology-specific electronic health records and practice management software. Fully integrated and comprehensive Smart EHR allows ophthalmologists to work with our COA or COT EHR specialists to personalize templates to follow their exam workflow. Smart EHR can be personalized per physician or per practice thus minimizing the implementation process. Smart EHR provides easier documentation allowing the physician more quality time with the patient. ManagementPlus has a proven record of successful software implementations as a result of customized training and support programs suited to the personality of your practice.