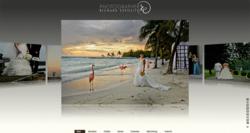 Greensboro, NC (PRWEB) May 01, 2012
PhotoBiz has launched two new website designs Bordeaux is a new Flash design, and Bourbon Street is a new HTML design for the Store and Blog Sites. Plus customers can now take full advantage of the Image Clipboard in the portfolio Flash and HTML websites, as well as Client Proofing.
Bordeaux is a refinement of one of our most popular templates, Marseille. It features a sophisticated carousel transition combined with a gradient background and sleek mirror at the bottom of each image. Up to five images are displayed on the home page, with the center image showcased as it swings into place.
Gallery pages in Bordeaux offer a very sleek layout. Arrows are displayed at all times to the left and right of images for easy navigation. There is also a pause and reload button, as well as an image counter. Combined with all of the amazing features and technology PhotoBiz provides with our website designs, Bordeaux is fully customizable to match any photographers unique branding and style.
Thank you to Richard Esposito for sharing his images for the sample of the Bordeaux template.
We are proud to provide such amazing new designs and look forward to developing more, said Lauren Marx, Chief Operating Officer.
The PhotoBiz team is also excited to release Bourbon Street, a new design for the Store and Blog Sites. The unified appearance in the Bourbon Street design includes a left-aligned menu, sharp square edges, along with a double border.
The Sign In and View Cart tabs are incorporated into the border motif, and for the first time there is a highlight color for borders on rollover. Plus, when the Marquee Plus page feature is used, there will be thick border displayed around each entry. Another first is a new title style that has an underline extending the width of the page. Like the other design choices that are available for the Store or Blog sites, Bourbon Street is very easy to navigate.
This sample Store Site features the images of Coleen Gousar and Misty Mioto provided the images for the sample Blog Site.
Finally the Image Clipboard has been enhanced to work on the Flash and HTML portfolio website and Client Proofing designs. With its initial release, the Clipboard was only available within the PhotoBiz Store. It was so well received that the utility was expanded to the additional products. This has a huge impact on customers overall image counts, in that an image can be uploaded once, and be used as many times as needed throughout our four amazing platforms.
The change saves me tons of time in my workflow! Thanks PhotoBiz! says customer Alan Flores of Flores Foto.
About PhotoBiz

Founded in 2004, PhotoBiz, LLC is a managed web solutions company for photographers, creative professionals, and other businesses backed by Passionate Support