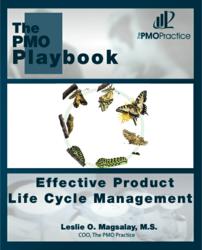 Los Altos, CA (PRWEB) May 16, 2012
The PMO Practice announced today its latest playbook The PMO Playbook: Effective Product Life Cycle Management. The third in the playbook series specifically designed for executives and program management professionals, this is a self-paced guide on the product life cycle process and product portfolio management strategy with exercises, activities, assessments, cases and checklists designed for interaction with the material.
The PMO Practice Founder/COO Leslie Magsalay authored The PMO Playbook: Effective Product Life Cycle Management (ISBN: 978-1475053449) in two parts. The author guides executives through effective strategies used to manage the resources and products in their portfolio and the roles and responsibilities that turn organizations into idea factories. For Program Management professionals and product teams, this playbook highlights the roles, responsibilities and best practices in the product life cycle that assure successful product launch and portfolio management. The much broader audience of organizations outside of the Program Management Office will read this playbook to understand and integrate their activities in the common activities associated with product delivery.
The playbooks two Parts focus first on executive concerns on product portfolio strategy, and second on the PMO professionals how to guide for each phase of the product life cycle process. This division provides the two audiences with insight into each others priorities and processes.
Part I: Portfolio Execution reviews characteristics of strategic balance tradeoffs, the six elements of product strategy process, executive roles and how to review new product ideas and the product portfolio with their organization.
Part II: Effective Product Life Cycle Process, helps program management professionals improve the quality of product delivery from Concept through Launch and beyond. Building on her Best Practice series of articles, the author covers the framework, best practices, and roles and responsibilities of the Product Life Cycle Process phase by phase and provides exercises and tools for effective management of the process.
You will launch many programs introducing new products to market, but have time to finish only a few. So plan, execute, launch and tap good people to be responsible. Give them authority and hold them accountable.

–Leslie O. Magsalay

Founder and COO, The PMO Practice

Teaching a PMO Practice workshop to Fortune 500 clients
If your organization has ever stumbled at launch after months in development, this is a Must Read!.

–CEO

Fortune 100 High Tech Firm

Client of The PMO Practice
The PMO Playbook: Effective Product Life Cycle Management (ISBN-13: 978-1475053449) is the latest in the PMO Practice toolset of handbooks, templates, journals, articles and booklets for the professional PMO community. Refer to The PMO Practice for the detailed list of books, events and product offerings. The PMO Playbook: Effective Product Life Cycle Management is available for purchase at Amazon, Amazons partners and at The PMO Practice store.
About the Author:

Leslie O. Magsalay is the Founder and Chief Operating Officer of The PMO Practice. She graduated summa cum laude with a Master of Science in electronic business management from Notre Dame de Namur University. She has received lifetime achievement awards for her work in portfolio execution and operations. As COO, Leslie led 6+ M&A program integrations for Fortune 500 clients with 2+ acquisitions. She identified/saved $ 5M CoGs (OpEx) in three months, which added $ 2.5M to the bottom line for a Fortune 500 client. In the PMO Practice Magsalay has delivered a content-rich enterprise and software solution that provides tools for portfolio management, budgets, and schedule and product lifecycle management.
About The PMO Practice:

The PMO Practice is a management consulting and executive coaching firm. The company provides executive advise, leads program execution and models operational excellence so companies can act more efficiently and effectively in scaling operations. Plan. Execute. Deliver. Effectively at The PMO Practice. Since its foundation in 2011, The PMO Practice successfully delivered 20 products over four product and service offerings (management consulting, books, and events such as conferences, seminars, workshops and speaking engagements.) As it continues to ramp up in 2012, PMO Practice will add a full calendar of conferences and an expanding suite of portfolio management and operations excellence products.