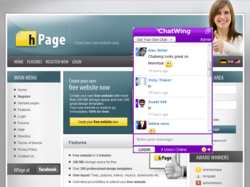 Charlotte, NC (PRWEB) August 27, 2012
hPage.com offers easy and intuitive menu, immense selection of designs and layouts with more than 300 professional designs and many more. With these features, hPage website host has been a favorite to thousands of users. hPage.com caters to different types of users personal site, online stores, and business website. Each user has their own needs and ways of maintaining a page. But all these users were able to appreciate the presence of a free shout bo x on their website provided by Chatwing.
Chatwing understands that increased online visibility is the common aim of each bloggers and website owners. Chatwings chat software helps users to have a head start among other bloggers. This chat widget can be installed in a matter of seconds, and after installation, it can be used instantly!
To provide a larger scope in the online community, Chatwing development team was able to increase the capacity of this free live chat to handle 1000 users online. With this update in the application, Chatwings chat box can be a great tool in directing the desired popularity to its targeted visitors.
This chat widget can be easily installed on the hPage website. Users simply create an account in Chatwing. An HTML code will be created which will be installed to hPage website. The chat widget is highly customizable to sync with the sites design and layout. Website Admin can change the size and color. They also have the option for the chatbox to be embedded on the website or appear as a pop out button. Chatwing also integrated in this chat software the presence of social networks. Users can log in using their Facebook or Twitter account. Nonetheless, they can log in anonymously as guests. Chatwing development team has also taken into consideration users that are not tech savvy. They made sure that the chatbox is user-friendly, with no complicated commands.
The presence of a free shout box widens the reach of each user. Web Admin can now communicate directly with their visitors real time, in a fast and easy way. This tool is more popular to those engaged in online selling and marketing. With live chat, Admin and prospective clients can have a venue to discuss in detail their products and services and will be able to address queries right away.
About Chatwing.com

Chatwing.com has developed live chat software for websites. forums and blogs. It caters to different online communities ranging from travel blogs, tech savvies, online gamers to fashion bloggers. Everyone can create a customizable live chat widget in less than a minute. The ability to chat via social media accounts such as Facebook and Twitter enable Chatwing to offer a special and one of a kind real-time experience to all sites. Chatwing is 100% free and very easy to use.