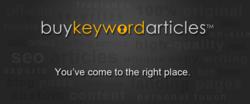 Washington Terrace, UT (PRWEB) May 29, 2012
Content is the engine that drives the SEO industry. Whether it is social media, search engine marketing, SEO articles or website optimization, custom content is always the central figure. Buykeywordarticles.com, a prominent article writing service, is now providing a simple solution for large and small SEO companies needing many different kinds of custom content. Through the introduction of managed services, SEO companies and corporate internet marketing teams alike can quickly and easily set up a content creation system that molds to their business model. This is made possible through the use of a project manager, dedicated writing teams, and customized ordering and delivery of content.
Having worked with some of the largest SEO companies in the industry, Buykeywordarticles.com is tailoring their managed services to meet the needs of companies that service a wide client base. With a project manager assigned to every account, SEO companies get one point of contact to deal with any issues that may arise. This project manager takes care of creating a dedicated team of American writers, developing order templates that incorporate all of the necessary SEO article guidelines, and ensures that the order is sent in upon completion. Buykeywordarticles.com has steered away from an automated brokering system to provide SEO companies with a personalized customer support system. Project managers can be contacted through email, through the phone, or on live chat.
"In an industry that is dominated by the introduction of new technology, we felt the best way to differentiate ourselves as an article writing service was to bring back a 'human' approach," stated Phil Secrist, lead project manager at Buykeywordarticles.com. "Rather than just giving clients access to thousands of freelance writers that may or may not be able to get them what they want, we do the work for them. We hand select all of our writers and personally match them to the client projects that fit them best. We actively monitor these teams and actually train them to write our client's articles. This system reduces error, increases consistency, and maximizes turn times."
With personally managed writing teams, Buykeywordarticles.com is able to scale projects to fit the needs of their clients. Ordering and delivery of SEO articles can be customized on a daily, weekly, or monthly basis. Finished orders are delivered via email, but can also be customized to work with an SEO company's distribution service. For more information on the benefits of using these managed services, visit http://buykeywordarticles.com/managedservices.html.
About Buykeywordarticles.com

Buykeywordarticles.com is one of the leading SEO article content providers on the web today. They have served clients ranging from individual internet marketers to Fortune 500 companies. Their content services include both on page and off page content and they provide internet marketing solutions through the use of hand-picked writing teams, dedicated project managers and quality content. To acquire more information about the services that they provide, please visit http://buykeywordarticles.com/.