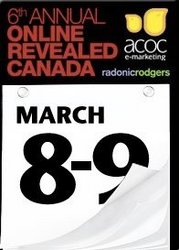 Toronto, ON (Vocus) November 4, 2010
A Couple of Chicks e-Marketing Co-founders Patricia Brusha and Alicia Whalen with presenting partners RadonicRodgersDesign+Marketing have announced the 6th annual online marketing conference Online Revealed will be held March 7-9, 2011 at the Sheraton Centre in Toronto. Known as the only user generated conference, the 2011 program offers cutting edge content, superior speakers and is the only Canadian conference to offer hands on learning workshops.
In addition to an inspiring keynote, panel sessions and case studies based on real life experiences, this year the online marketing conference will be offering 31 unique workshops available for all learning levels with three tracks to choose from. An alumni track is available with advanced learning opportunities for those who have attended the ORC tourism marketing conference in the past or have had an Internet Marketing position for over 2 years.
Unique to the travel marketing conference are Learning Labs with hands on instruction on building a blog, Facebook Page or setting up a Google Adwords account. Destined to be incredibly popular, space is limited for the learning labs and pre-work is required. The back by popular demand track covers the hot topics for online marketing with updated content from new and returning workshop leaders.
Industry leaders from Google, Tripadvisor, WestJet, Fairmont Hotels and Resorts, Travelzoo and more will present workshops over two days at Online Revealed specific to marketing tourism online. Workshop topics Include iPhone, iPad, iMarketing, Enterprise Level SEO, Reputation Management: How to Manage Brand & Trademark Issues, Social Media Monitoring and a Word Press Camp on Blog Building.
We are very proud for Online Revealed 2011 to have joined with the Hotel Association of Canada Conference to bring attendees a brand new conference, The Canadian Tourism Marketing Summit, states Patricia Brusha, Co-Founder of A Couple of Chicks e-Marketing and Online Revealed. The Summit will focus on a wide spectrum of marketing topics suitable anyone involved in Canadian tourism. All Online Revealed Canada delegates will have the added content of the Summit to enhance their conference experience. And, with the new format, Online Revealed Canada delegates are able to attend all 3 conferences for one low price. This is a powerhouse week of learning never before offered for online marketers in Canada we are thrilled, notes Brusha.
In addition, this will be the first year that the Canadian e-Tourism Awards will be incorporated as an ongoing part of the of the online marketing conference program.
Online Revealed is ideal for e-Commerce Managers, Brand Managers, Sales Directors, Marketing Managers, GM's, CEO's and Revenue Managers from all areas of the travel, tourism and technology industry. Join the over 1,200 tourism marketing professionals who have benefitted from attending Online Revealed in the past presented by online marketing experts A Couple of Chicks e-Marketing and RadonicRodgersDesign+Marketing.
Super early bird rates are available until December 25, 2010 by visiting http://www.onlinerevealed.com/register_now.php
About Online Revealed

The online tourism marketing conference Online Revealed Canada was organized and produced as a grassroots effort six years ago to recognize Canada as special and unique when it comes to online travel distribution by Patricia Brusha and Alicia Whalen, Co-founders of A Couple of Chicks e-Marketing. Online Revealed Canada brings together travel professionals, individual hotels, hotel brands, marketing agencies, destination marketing organizations, vendors, suppliers and tourism operators to stake claim in the multi-billion-dollar ever changing online travel market. Since its inception in 2006, over 1,200 travel industry professionals have benefitted from the over 90 workshops and presentations produced by Online Revealed. The 6th annual tourism marketing conference will be held March 7-9, 2011 at the Sheraton Centre in Toronto.
Contact

Patricia Brusha

Co-founder, Online Revealed & A Couple of Chicks e-Marketing

416-817-5595

pbrusha(at)acoupleofchicks(dot)com
###
Related WordPress Press Releases