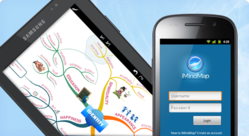 Cardiff, UK (PRWEB UK) 24 May 2012
Inventor of Mind Mapping and specialist in creative thinking, Tony Buzan, has announced the release of the iMindMap for Android apps from ThinkBuzan, giving Android users the freedom to access iMindMaps creative workspace wherever they are for brainstorming, planning and organising.
The new mobile apps will be available to download free on Google Play from May 22nd for Android phones and tablets. iMindMap Mind Mapping software is designed to give users an intuitive thinking space in which to capture their ideas and stay on top of their busy schedules. Used everywhere from the classroom, for studying and revision, to the office, for project planning, brainstorming and presentations and even at home for to-do lists and fitness schedules, iMindMap promotes clear and creative thinking.
Chris Griffiths, CEO said:

I am delighted to see iMindMap arrive on the Android platform. Following the success of our iPhone and iPad apps, I know a lot of Android users desperate to get their hands on an Android version. The touchscreen functionality of the smartphone platform takes Mind Mapping to a whole new level, allowing users to hand draw their maps and enhancing the creative experience. It is the only Mind Mapping app that gives users the creative freedom to draw their maps themselves with Freehand Branches and our unique Sketch Tool. We have many users who say they actually bought their tablets specifically to use iMindMap.
The release of iMindMap for Android apps marks the expansion of the fully integrated iMindMap suite of desktop, mobile and online applications. iMindMap for Android is part of the iMindMap Freedom package, meaning that by subscribing, app users can seamlessly sync their Mind Maps across all platforms and gain unlimited access to iMindMaps web-based editor.
Mark Morgan, Head of Mobile & Web Development said:

iMindMap Freedom takes the iMindMap mobile apps beyond a single device. They can log in to iMindMaps intuitive workspace on any Android tablet or phone, iPhone, iPad or any computer with an internet connection and their maps will be there waiting. This is just the beginning for Freedom. We are already working on a new Blackberry Playbook app and have some big surprises in development for the whole range.
Highlights: