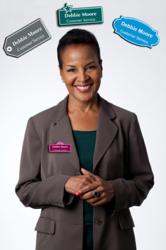 Brooklyn, New York (PRWEB) August 08, 2012
MyNameBadges.com, a leading distributor of name badges and templates, has launched a new line of Showcase name badges. These new badges provide an attractive and classy touch to badges for name identification.
MyNameBadges specializes in identification badges to reinforce a distinctive look. Showcase name badges are an elegant version of more standard templates. These are excellent items for conferences, networking events, exhibitions, or formal dinners. "Party hosts and event organizers will love the items to manage crowd turnouts," said Cole Paulson, Manager of MyNameBadges. "The badges could also be visually captivating options for daily work life."
The new line features a variety of designer name badges with multiple enticing designs. The shapes are truly one-of-a-kind, from shell forms, star shapes, jigsaws, hearts, and more. Each badge comes with customizable wizards that allow users to input names and titles with the option to adjust font size and style if desired. Numerous fonts and color options are available for aesthetic appeal, and there is no extra charge to add the second line of text.