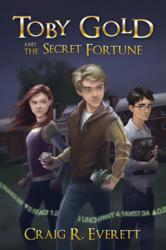 Calabasas, CA (PRWEB) November 30, 2012
Fiscal Press announced today that Craig R. Everett, author of bestselling youth financial literacy thriller Toby Gold and the Secret Fortune, is now available for school visits to present his 45-minute assembly entitled "Toby's Millionaire Academy" that teaches kids (grades 6 through 8) principles of success through their decisions regarding education, career, saving and investing. Because the cost of the assembly is offset by book sales, the author's appearance fee is being waived until further notice.
"Toby's Millionaire Academy is a really fun assembly," says Dr. Everett. "I've taken financial themes from Toby Gold and the Secret Fortune and incorporated them into a presentation full of games and activities. This school assembly helps kids realize that their future success is directly tied to their choices about money, education and career."
For the immediate future, the author is limiting school visits to the Los Angeles metropolitan area and nearby parts of Southern California in order to limit travel time and expense. More information about booking school visits is available at http://TobyGold.com
About Craig Everett
Craig R. Everett, PhD is assistant professor of finance at Pepperdine University's Graziadio School of Business and Management and is associate director of the Pepperdine Private Capital Markets Project. Dr. Everett teaches and does research in entrepreneurial and behavioral finance. He also is keenly interested in financial literacy, volunteering in local schools through Junior Achievement and serving on the curriculum advisory board for the National Financial Educators Council.
About Fiscal Press, Inc.
Fiscal Press is an independent publisher of unique books, for both adults and children, related to business, economics, entrepreneurship and finance. Fiscal Press, Inc. is a California benefit corporation with a social mission of promoting financial literacy.
Related Themes Press Releases