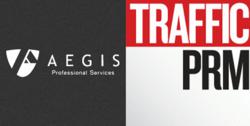 St. Louis, MO (PRWEB) May 10, 2012
TrafficPRM, a full-service online marketing firm, and Aegis Professional Services, a multi-service advisory firm to businesses, have announced a joint webinar that will cover the legal and ethical boundaries of social media and online marketing. The webinar, Social Media, Meet Federal Regulation, will be presented by online marketing expert Jenny Dibble, principal at TrafficPRM, and Mariquita Barbieri, a specialist in marketing law at Aegis Professional Services. The event will take place on Tuesday, May 22, at 11 a.m. CST/12 p.m. EST.
To register for the webinar, anyone can go to the registration page. Attendance is open to the general public.
Many small- and medium-sized businesses have begun social media marketing without fully considering the legal and ethical implications. Simple actions such as responding to a post on a business Facebook Page or asking customers to post reviews on review sites can impact a business both from a branding and legal perspective. The webinar is unique because it combines experienced points of view from legal and marketing veterans, and will help attendees make the most from social media platforms in a way that still protects their brand.
"Small- and medium-sized businesses often think they are immune to FTC compliance online, especially with social media, because of their size. This simply isn't true and one misstep can have serious implications. If a business is on Facebook or Twitter, or thinking about engaging in social media in the future, this is a must-attend webinar," said Dibble.
Social media marketing is an excellent way to brand a growing business, but business owners should be aware of how to market the brand ethically and legally on the Web.
This webinar will teach all stakeholders marketers, agencies, brand managers, and other influencers the vocabulary and practices of risk management to face a regulated social media industry, said Barbieri.
Attend this webinar to learn how to:

Monitor A Brand: How to seamlessly monitor mentions of the company, brand, and offerings online.
Solicit Reviews from Customers: There are serious ethical and legal issues that come along with asking customers to write reviews about a company online. Pssst it is still possible, just learn how to do it the right way!
Engage through Social Media Safely: A fan writes a negative comment on your Facebook page. Delete, write back, or ignore? The decision may have legal (and brand eroding) consequences!
Communicate During a Crisis: In an emergency, do employees know what to communicate and what not to communicate to customers and press? We'll provide tips to creating a plan and the rules to remember when getting started.
Develop a Social Media policy for employees: If a business doesn't have a policy, it could be at risk. Learn the ins and outs of what it should include and even receive a template to get started.
The attendance fee for the webinar is $ 30. Attendees can pay by credit card via Paypal. Registration is open to the public. Interested parties can register here.
About TrafficPRM

TrafficPRM makes clients visible on the Web. A St. Louis Internet marketing agency, Traffic specializes in inbound marketing services that include search engine optimization (SEO), search engine marketing (PPC), and social media marketing. Traffic also develops communications strategies and national PR programs for a wide variety of clients.
About Aegis Professional Services
AEGIS is a multi-line advisory firm that helps businesses of all sizes achieve their legal, strategic, and financing goals. Today, AEGIS strives to uphold the tradition of the aegis by offering inter-related lines of advisory services- Legal, Consulting, Mergers & Acquisitions, and Capital Sourcing- to individuals, entrepreneurs, and businesses of all sizes throughout the United States. Our offices in St. Louis, Missouri and Chicago, Illinois are staffed with almost twenty professionals who bring a rich diversity of backgrounds, professional experiences, and specialized talents to the work we do on behalf of our clients.
For More Information, Contact:

Amanda Branco

314-968-7712

amanda(at)traffic-prm(dot)com
Find More Templates Press Releases