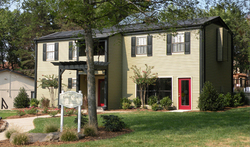 San Ramon, CA (PRWEB) September 3, 2008
Green Leaf at Hermitage Apartments, Nashville Apartment Green Leaf at Hermitage, an affordable apartment community in Nashville, is about to increase its customer base by reaching a wider audience. Known for combining the vintage elegance of the city's rich history along with the finest in customer service and quality, Green Leaf at Hermitage Apartments is a member of the family of apartment rental communities, Green Leaf Partners Green Leaf Partners. Green Leaf Partners consists of several apartment rental communities that elegantly combine the allure of exotic locales with modern design aesthetics. From the redesigned Green Leaf at Broadway Apartments http://greenleafbroadway.com to the upgraded Green Leaf at Killian Hill Atlanta Apartment Green Leaf at Killian Hill located in The city of Snellville located in Gwinnett County, Georgia, roughly 20 miles northeast of the Atlanta metropolitan area, each member of the Green Leaf Partners family of apartment rental communities.
Green Leaf Partners are also proud to announce that they are rolling out the "Go Green" program at all of their properties around the country. Energy efficiency has always been a major problem for older, garden-style apartment buildings. To address this issue, Green Leaf Partners have been working to develop a strategy that will better the lives of their residents, and the planet. Green Leaf Partners see's this strategy as having multiple benefits: They will help the environment by creating buildings that use less water and energy. They will save residents money on their utility bills and create goodwill in the community.
While there are plenty of earth-friendly changes Green Leaf Partners could make to their properties, they intend to stick with a disciplined approach, investing in things that make sense from an environmental perspective. The Go Green program will initially consist of the following: