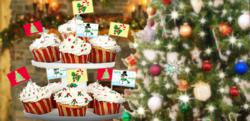 Atlanta, GA (PRWEB) December 04, 2012
With easy online access, holiday shopping is no longer a traffic nightmare at the mall with The Flag Company, Inc.s large holiday selection of custom holiday paper table placements, festive toothpick flags, decorative light covers, wall art, seasonal banners, stick and field flags, flagpole beacons, and much more that can make a holiday party, table, or home decorating theme a holiday original.
With a large stock of holiday toothpick flags available at Toothpickflag.com, it is also fun and easy to order original custom-designed toothpick flagsan easy way to dress up a holiday buffet. This years new item, custom paper placemats, is a fun way to mix and match with the toothpicks, a sure guarantee for a festive holiday table and party.
Along with the outdoor Christmas light decorations, dont forget to add daylight Yuletide charm to a business or home with custom-made outdoor field and stick flags, or even highlight a flagpole with one of the patented flagpole beacons offered at The Flagpole Warehouse.
For a truly original office decoration, one of The Feel Good Light Ups holiday-themed light covers or wall art will truly lend good seasonal cheer to the workplace.
We enjoy the holiday season, says Mike Lawrence, Vice President of The Flag Company Inc., and we think our current and future customers will discover how fun and easy it is to perk up parties and create a festive home atmosphere with our original holiday items.
About The Flag Company, Inc.
As the largest online flagpole supplier, The Flag Company, Inc. offers a complete range of flags and flag-related products in addition to its line of flagpoles and signature Flagpole Beacon. Custom screen-printing and digital printing are available for special events, corporate logos, etc. Stock merchandise includes U.S., state, international, and military flags, and all types of accessories such as bunting, memorial cases, pennants, and more. The Flag Company, Inc. is the nation's largest producer of message flags, offering over 300 different messages used by realtors, restaurants, car dealerships, and any other kind of company imaginable. Toothpick flagsboth stock and custom-made to order are also available. The complete product line can be viewed at http://www.flagco.com. "Feel Good Light-Ups," a decorative light lens for fluorescent light fixtures, are now so popular there is a dedicated website at http://www.feelgoodlightups.com. Flagpoles and Flagpole Beacons are featured at http://www.flagpolewarehouse.com.