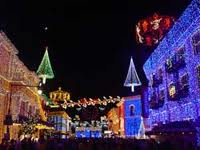 Orlando, FL (PRWEB) November 30, 2012
The Orlando Vacation Store, a lead seller of Orlando vacation packages, released a detailed review of the event, praising Disneys Hollywood Studios as one of the top Holiday destinations in Orlando.
The Orlando Vacation Store's popular blog keeps visitors up to date on events happening in Orlando (both inside and out of the theme parks), and although it has covered dozens of Holiday attractions year after year, it still rates the Osborne Family Spectacle of Lights among the best Disney's Christmas celebrations in the country.
The dancing lights themselves are incredible as always! The amount of lights alone is staggering but when they start moving, it is like being transported to another world. They are carefully timed and really bring the music to life.
The event happens each year and it is still growing. The collection began as a familys decorations from Little Rock, Arkansas and included 3 million lights. While the current version includes all of the original decorations, some Disney holiday inspired ones have been added, including forty hidden Mickeys.
Currently, there are over 5 million lights strung up along the promenade and it took a creative team fifteen weeks to set them up. The soundtrack is all over the place, including classics, modern rock versions of songs and of course, one of the staples of the event is the music provided by the Trans Siberian Orchestra.
About The Orlando Vacation Store

The Orlando Vacation Store is a local travel company that handpicks the best hotels according to quality, location and features, and negotiates the best wholesaler rate to offer guests the best deals on their trip. The hotel, park tickets and/or car rentals are combined into a discounted and stress free vacation package. TOVS has the advantage of knowing all the tricks to planning and saving money on every aspect of an Orlando vacation.