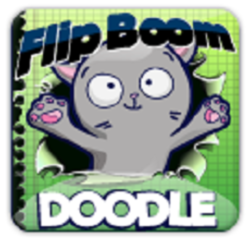 (PRWEB) April 29, 2012
Technology expert Scott Steinberg recently spoke with NewsWatch about some of the most innovative technology products of 2012. One product that really caught his eye came from a company thats been in the professional world for quite some time now. The company is called Toon Boom Animation Inc., and although consumers might have never heard their name, theyve been behind the scenes with some of Americas top entertainment companies such as Disney, Warner Brothers, Cartoon Network, Fox and Dreamworks pictures.
Theyre digital content creation software and technology has been nominated twice for Oscars. With their entertainment industry knowledge, theyve been able to create a fun line of consumer-oriented animation products. They have a whole lineup of user-friendly applications for all ages, and all of it is based upon their years of professional animation technology.
The one application that really stood out to Scott was the Flip-Boom Doodle. It allows users to create fun, animated videos using Flip Booms drawing tools and easy-to-use templates. Flip Boom Doodle provides the tools for any child or novice artist to turn stationery images into fun and exciting animated clips. Consumers dont need to be a master artist or a technology guru, all the tools are right there for them, and there are a number of template pictures and images to help anyone create the perfect animation story in just a few minutes.
Whether an aspiring artist wants to create a video of sheep jumping over a bush, an animated Happy Birthday card, or just a fun video of an elephant and a mouse, it can all be done very easily with Flip Boom Doodle. This application is great for children who want to impress their friends, parents who want to send out a great birthday party invitation, or any aspiring artist who wants to have a little fun and unleash their creative side. Users can even upload and share their animations straight to facebook for all their friends to see. The app is priced at $ 29, but ToonBoom is currently running a promotion where they are giving away the app for free at ToonBoom.com/newswatch
Hailed as a top voice for todays high-tech generation by dozens of publications from USA Today to Forbes and NPR, Scott Steinberg has covered the field for 400+ outlets from The New York Times to Entertainment Weekly and Wired. A frequent on-air technology analyst for major TV networks including ABC, CBS, FOX, NBC and CNN, Scotts also a bestselling author and creator of the The Modern Parents Guide and Business Expert's Guidebook series. More than one billion people have turned to his columns and reports for insight into all things high-tech. He is the CEO of TechSavvy Global.
NewsWatch is a weekly 30-minute consumer oriented television show that airs nationwide. NewsWatch regularly feature top celebrities, health tips, technology products, medical breakthroughs and entertainment news on the show. The show airs in 190 markets nationwide as well as all of the top 20 broadcast markets in the country. For more information, head to newswatchtv.com