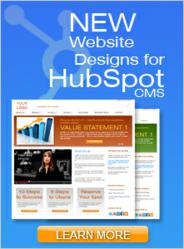 Atlanta, GA (PRWEB) April 30, 2012
All web design projects have at least 3 stages: strategy, design, and implementation. Often, companies start the graphics portion of their web design before addressing their messaging and determining how their website will help them capture more leads, often leading to higher costs, frustration, and an ineffective website.
One of the major web design pitfalls that we have seen, is the tendency of business owners and marketers to focus first on the look and feel of their website. said Eduardo Esparza, president of Market 8, this only leads to countless revisions, increased design costs, and ineffective websites that do not support sales growth.
Last December of 2011, Market 8 launched a series of web design templates for the HubSpot CMS and a methodology that helps companies understand their messaging and their lead conversion triggers.
Companies adopting HubSpot and immersing themselves in inbound marketing, need to be thinking about how to generate leads through their website. Our methodology for HubSpot web design forces companies to think about what they want to say and how leads will convert; we then help them execute their message and their lead capture process with custom graphics, custom calls to action buttons and a series of web page templates that they can reuse as they create their content, said Esparza.
Market 8s HubSpot web design is facilitated by a proprietary, easy to use Google Docs-based Implementation Workbook that allows efficient collaboration between clients and the Market 8 team.
Our process is designed to facilitate collaboration, Esparza said, sometimes we see up to 6 people working and discussing different aspects of messaging, content and conversion, simultaneously, in a single Google spreadsheet; this eliminates e-mailing information, version control, and allows for quicker implementations and a better end result, every single time.
Market 8s hubspot web design templates have a starting price of $ 950 and are available in 4 different layout structures and implementation levels.
About Market 8

Market 8 is an inbound marketing and branding agency that helps clients increase revenue and return on marketing investments by focusing on strategies that are fundamental, effective and measurable. A fully integrated agency, Market 8 specializes in marketing strategy, website development, interactive design, content creation, video marketing, and marketing analytics including specific prospect and lead tracking.

Read Market 8's Inbound Marketing and Branding Blog