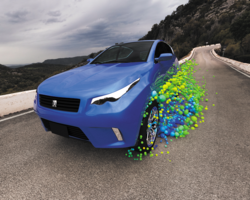 Burlington, MA (PRWEB) May 09, 2012
Exa Corporation, a global innovator of fluids simulation solutions for product engineering, today announced the latest release of its PowerFLOW product suite, Release 4.4. With nearly one hundred enhancements, this release significantly improves performance and user productivity, streamlining its industry-leading fluids-analysis simulation process. Overall turnaround times are reduced with performance improvements, new incremental discretization technology that accelerates automatic fluid grid creation for modified models, application-specific case setup templates for thermal and aeroacoustic analyses, and dozens of other changes designed to make analysis of complex problems faster and easier.
Our customers are already running large numbers of simulations with PowerFLOW to meet their product development requirements, commented Chuck Alexander, Exas Director of Product Management for Simulation Products. Many customers are now using design space exploration and optimization techniques early in the product development process to gain rapid insight into complex design behavior. This is driving the need for an ever faster and more automated simulation process. PowerFLOW 4.4 provides a more efficient process with new automation capabilities and performance improvements in almost every step of setup, simulation, and analysis.
Many thermal analysis improvements are also included in this suite release. Highlights include a new thermal battery model in PowerTHERM, which enables accurate simulation of the complex thermal and electrical behavior of batteries as well as an improved human comfort model that extends thermal simulation capabilities to include the heat transfer due to evaporation, condensation, blood flow, and sweat.
PowerFLOW 4.4 Highlights: